About Us
Board of Directors
"Warriors of the Agriculture Revolution"
We have all latest tools, equipment, advance machineries, R & D lab, quality control instruments and well trained staff to design and manufacture high quality workable products. As the leading tractor exporters and manufacturers, we ensure defect free production line as per industry norms. We are serving our clients from different offshore locations in India. Our technical details and dedicated customer support make us more popular among dealers and clients.
At Captain Tractors Pvt. Ltd., we have also developed various attachments and implements which are necessary to increase overall capacity of mini tractor. Besides compact tractors, we are also developing self-propelled reapers which can be operated by petrol, diesel or kerosene for wheat, rice, and soya bean harvesting. We have also expanded our manufacturing network in foreign countries without making any compromise in quality standards. For more information, you are free to discuss with our quality team and manufacturing department.
After restless efforts, a real innovate product first time in India, the perfect, all season use prime tractor in the segment of "MINI TRACTOR" has been rolled out from the factory. This CAPTAIN Mini Tractor shall be really boon small farmers to achieve fast progress in farming.
Comparatively operation carried out by Captain Mini Tractor is better than other Mini Tractors and Power Tillers. Captain Mini Tractor consumes nearly 40% less fuel in compare to other tractors. The heart of Captain Mini Tractor is an engine, which is tested and certified by ARAI as norms for pollution controlling. Price of the Tractor is very competitive. Our need base is simple and with transparent technology with dealers. Company provides an Operator's Manual to maintain the same.
For better output and facilities of customers. "CAPTAIN" has introduced products like several type of Accessories and Applications (i.e. Power Reaper, seed drill etc.) including organic fertilizers (after studying its advantages over chemical fertilizers), and which are used in agriculture firm from beginning to end with Mini Tractors.
Innovation of Mini tractor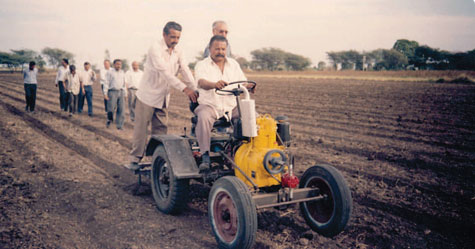 Mr. G. T. Patel Taking Trial of Innovated Mini Tractor
"Idea cannot be small."
The bird which touches the sky might have started from the bottom at once. Each journey to the chariot glorifies the hard work of the person who used to sleep in the cradle once. An early start, with a purpose of giving a new way of farming to every farmer, the ever Inspiring Ideology of Mr. G.T. PATEL & Mr. M.T. PATEL, and to set up an idea of diversifying the agriculture world with a separate view. Starting up with the experiments in 1994, finally the India's first 100% Indigenized MINI TRACTOR has been rolled out to define its place in 1998. Along with tough spirit & hard working, Captain Tractors touched the hearts of every farmer and became PIONEER in the world of Indian Mini Tractors.
Today, with the plenty of innovations & creativity, Captain Tractors constantly moved on with a saying, "Every Innovation brings a new Solution to the Customer". Right from the beginning, customer reviews and their level of satisfaction are kept at a Priority.
Along with update in the technology, New Generation stepped in & took position in Captain Tractors. Their Ideas, Capability, hardworking and ultimate inputs proved Captain Tractors unique in every reach.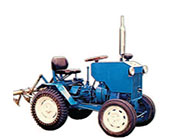 1st Generation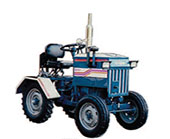 2nd Generation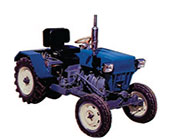 3rd Generation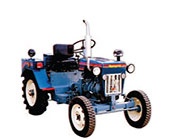 4th Generation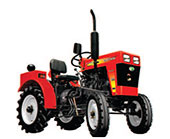 5th Generation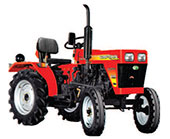 6th Generation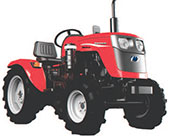 7th Generation
7 Generation of Innovation... and still growing
Company Vision, Mission and Values
Awards are the official forms of the Success
Awards are the milestones which make us remember about tough days of struggle and beautiful days of success. We have been awarded by many National and International awards and we have been also appreciated by awards from Government of India and we are proud of it.
Company History
India's 1st Mini Tractor
India's 1st Mini Tractor Rolled Out Successful
Government Approval
CAPTAIN TRACTORS Successfully Approved By Govt. India
Developed Implements for Mini Tractors
Developed All Major Agricultural Implements, Suitable to Mini Tractor
Enlisted in NABARD
CAPTAIN DI 2600 Enlisted in NABARD
Subsidy Approval from Govt. of India
Captain DI 2600 got Subsidy Approval from Govt. of India New Delhi
ISO 9001-2000 Certification
Got ISO 9001-2000 Certification with Product Design
MOU with Nationalize Banks
MOU with All Major Nationalize Bank for Finance Availability
2 National Awards
Honored with 2 National Award by Government of india
CAPTAIN DI 2600 4WD
CAPTAIN DI 2600 4WD Launched Successfully
Separate Division for Implements
Established Separate Division for Manufacturing Agriculture Implements
Awarded for Innovation in Technology
Awarded for Innovation in Technology for New Product / Process Development
Strategic Alliance
Strategic Alliance" with World Renowned TAFE Group for Small Tractor Series
120 DI launched and We got award
Series of 120 DI 2WD & 4WD Launched Successfully and we got award for "QUALITY AND ENVIRONMENT MEASURES"
200 DI and 250 DI Launched
Series of 200 DI 2WD & 4WD and 250 DI 2WD & 4WD Launched Successfully
Awarded for Innovation in Technology
Awarded For Innovation In Technology For New Product / Process Development
"7G" Generation Launched
"7G" The Seventh Generation Series Launched. Got Homologation for (European) Market Launched 280 DX Model
Exported to 5 Continents
Exported Tractors to 5 Continents in a month
New Export Model Introduced
Captain 273 introduced for European market
New Export Model Introduced
Euro Stage V Captain 273 introduced for Europe
Farm Power Awards 2020
Honored by Best Tractor of the Year < 30HP