"Tough Roads Lead to Beautiful Destination."
Success is valued by strength of the DESIRE. This saying perfectly reflects the Journey of Captain Tractors Pvt. Ltd. A single new thought of visionary farmer brothers changed the dimensions of Agri world. India's 1st Mini tractor was introduced in 1998, by ultimate efforts of Mr. G.T. Patel & Mr. M.T. Patel whose journey started with smallest HP tractor, continued with its segments, by adopting modern technological aspects, tools & equipment along with high facilitate skilled & qualified staff
Everyone thinks Ordinary but one who wants to reach at the height, always thinks Extra Ordinary. New generation brought out different era. Considering solutions for farmers, Product is designed at its best for its optimum utilization. Captain Tractors has always been a strongest shoulder of every farmer which helps up bring the golden fields. We have always trying to give farmer the worthwhile product, which helps them earn, as well as to save their energy, money and time. Our motto is to satisfy customer at our best. Services facilitated to each customer are at their doorstep.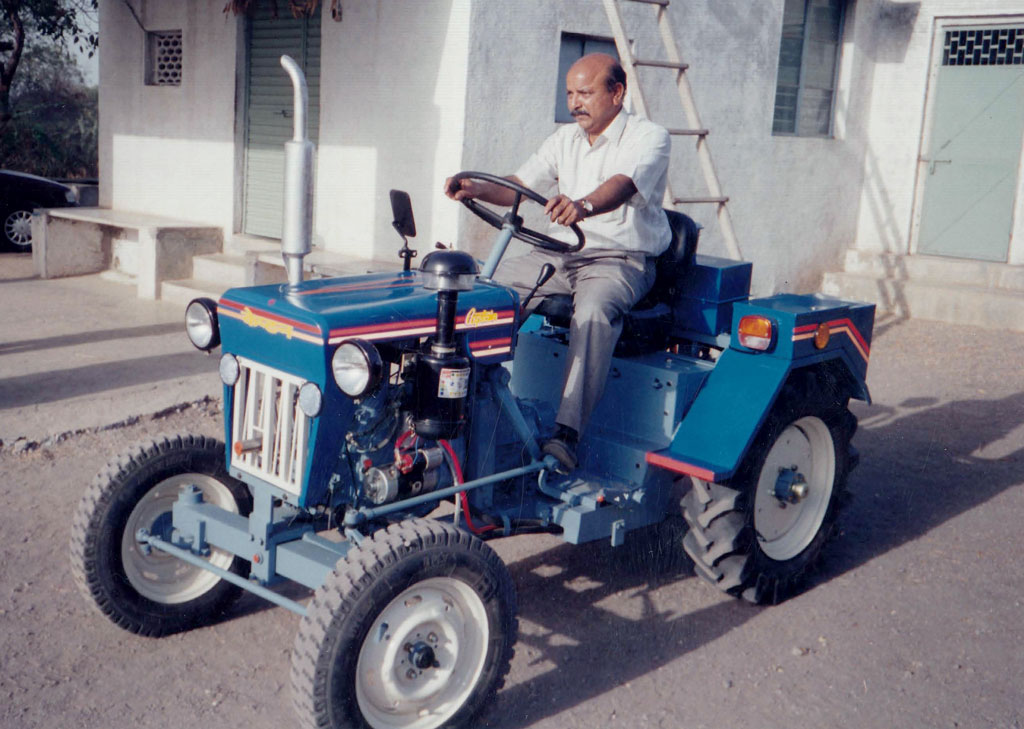 Captain Tractors is an agricultural visionary company, having a Vision & Mission of shining in the field of mini tractors. To satisfy the farmers at their fullest, we have started with various categories range of implements which added a feather to Captain Tractors. Going beyond from the boundaries of India, we also export our all product in overseas market
Born due to our impressive innovation in R&D and entrepreneurship, we have been honoured with 9 National and State Level Awards. ISO 9001- 2015 CERTIFICATE issued reflects Captain Tractors system and punctuality towards Quality as well as Products.
We have always proved our identity in Global Market. We will work out with same bringing up many models which would ease the work of farmers and drag Agriculture to a different orbit.
India's 1st Mini Tractor
India's 1st Mini Tractor Rolled Out Successful
Government Approval
CAPTAIN TRACTORS Successfully Approved By Govt. India
Developed Implements for Mini Tractors
Developed All Major Agricultural Implements, Suitable to Mini Tractor
Enlisted in NABARD
CAPTAIN DI 2600 Enlisted in NABARD
Subsidy Approval from Govt. of India
Captain DI 2600 got Subsidy Approval from Govt. of India New Delhi
ISO 9001-2000 Certification
Got ISO 9001-2000 Certification with Product Design
MOU with Nationalize Banks
MOU with All Major Nationalize Bank for Finance Availability
2 National Awards
Honored with 2 National Award by Government of india
CAPTAIN DI 2600 4WD
CAPTAIN DI 2600 4WD Launched Successfully
Separate Division for Implements
Established Separate Division for Manufacturing Agriculture Implements
Awarded for Innovation in Technology
Awarded for Innovation in Technology for New Product / Process Development
Strategic Alliance
Strategic Alliance" with World Renowned TAFE Group for Small Tractor Series
120 DI launched and We got award
Series of 120 DI 2WD & 4WD Launched Successfully and we got award for "QUALITY AND ENVIRONMENT MEASURES"
200 DI and 250 DI Launched
Series of 200 DI 2WD & 4WD and 250 DI 2WD & 4WD Launched Successfully
Awarded for Innovation in Technology
Awarded For Innovation In Technology For New Product / Process Development
"7G" Generation Launched
"7G" The Seventh Generation Series Launched. Got Homologation for (European) Market Launched 280 DX Model
Exported to 5 Continents
Exported Tractors to 5 Continents in a month
New Export Model Introduced
Captain 273 introduced for European market
New Export Model Introduced
Euro Stage V Captain 273 introduced for Europe
Farm Power Awards 2020
Honored by Best Tractor of the Year < 30HP